In February 2012, 73-year old Nepalese craftsman Chandra Bahadur Dangi was recognized for being the world's shortest person ever recorded. The Guinness Book of World Records says he is smaller than anybody measured since 1955 when the organization first began noting such things. At a height of 21.5 inches, or just under 55 centimeters, Dangi stands as tall as most folks' knees.
It's not the first time Nepal has given us the shortest person in the world. The home of Everest, the world's tallest mountain, has birthed some of history's wildest height extremes, not least among them Chandra Bahadur Dangi.
Dangi is a lifelong resident of a remote 200-household village called Rhimkholi, nestled deep within the snowcapped Himalayan ridges of southwestern Nepal. He is the smallest of seven siblings, three of whom are less than four feet tall. While his arrested development was never diagnosed by a doctor, Dangi is thought to have an extremely rare medical condition known as primordial dwarfism.
A land of great monsoons and ethereal snow leopards, Western Nepal is one of the most isolated places on earth. With extensive rural poverty and few medical facilities of any kind, Dangi's homeland is already vulnerable to the effects of nutritional stunting. It's no wonder that someone born with extreme dwarfism in this region has become the world's new shortest person.
But for Dangi, life has only just begun. He expressed enthusiasm about his newfound global recognition after seven decades in the same village. Following a lifetime spent in social obscurity, he said he's ready to get out of town and see the world.
"I am very happy. Now I want to travel across Nepal and to foreign countries," he told reporters in Kathmandu after earning his stripes as the world's shortest individual.
"I think things will be better now. I hope that I will be famous all over the world."
By The Numbers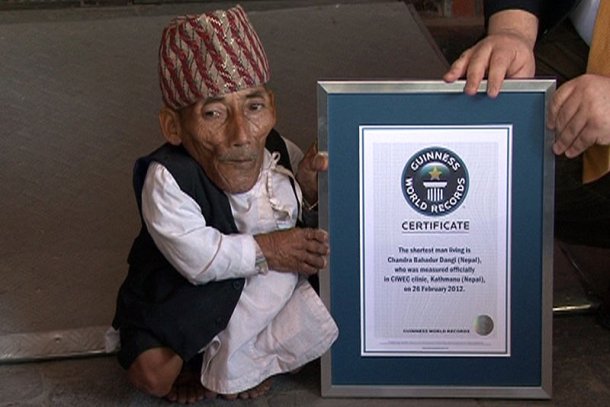 As the littlest man in recorded history—Dangi is also close to being the oldest dwarf that is still living. He is second only to Missouri native Lowell Deforest Mason, born less than two years before him in 1937.
Dangi's new record upsets that of the former 'shortest living man' Junrey Balawing, a Filipino measuring 23.5 inches tall. He also displaces the late Gul Mohammed of India, who at 22.5 inches used to be the shortest adult human on record.
These figures stand in stark contrast to the "Giant of Illinois," Robert Wadlow, whose nearly nine feet makes him the tallest known individual whose height has been verified beyond a shadow of a doubt. Wadlow passed away in 1940 and was laid to rest in a ten-foot-long, half-ton casket.
Primordial Dwarfism 101
Can dwarves like Dangi lead normal lives with their condition? Yes! There are hundreds of thousands of dwarves in the U.S. alone, and the vast majority live perfectly normal lives, aside from the nuisance of having to field incessant commentary from average-sized people.
There are hundreds of different types and causes of dwarfism, a large number of them based on genetic changes. One of the most striking of these syndromes is called "primordial dwarfism." This is the demographic characterizing many of the 'world's shortest' Guinness Book recordholders. The most common causes of primordial dwarfism arise as endocrine or skeletal problems caused by genetic mutation. Abnormalities begin in the womb, and end up suppressing growth in all stages of the life cycle.
Primordial dwarfism is not an unchanging category. Today more than ever, the pace of research combined with the condition's inherent complexity mean diagnostic boundaries are always shifting to accommodate new or reclassified findings.
Dangi has the head of an average-sized person atop a small, self-contained torso. His head seems to account for around 30 percent of his stature. Nevertheless, he can and often does climb stairs—even if he doesn't bother with chairs during meals. Dangi simply perches on top of the table and enjoys his rice and veggies with friends and family at eye-level.
A common estimate says there are 100 people with primordial dwarfism worldwide. In truth, there's no way to know for sure. Dangi himself, having never left his alpine village, was not a 'known' case until he emerged last year to claim the Guinness World Record, after a foreign contractor spotted him and thought to tip off local media.
A Paradox of Health
A half-pint man from a tiny village in deepest Nepal, Dangi is no spring chicken at 73 years of age. Yet he is in perfect health and has never felt compelled to seek out a doctor, nor take any kind of medication.
Donning his traditional Dhaka topi woven hat, Danki discusses how he has never been seriously injured or ill—just the occasional cold.
"At such times I drink hot water and have turmeric power dissolved in water," he recalled.
Primordial dwarves' life expectancy is said to rarely exceed the age of 30, and brain aneurysms have carried away many. Nevertheless, Dangi's healthful case shows that important exceptions exist.
Rather than wasting away as a young man, Dangi has lapped these dim prospects many times over. Indeed, he has even outdone his country's average male life expectancy by nearly a decade. Less than five percent of the Nepalese population is over the age of 65.
Interestingly, researchers have linked certain types of extreme dwarfism with longer life in lab studies with mice, suggesting the range of possible 'primordial' health outcomes may be wider than we think. These findings resonate with the extraordinary longevity of the new smallest person in the world.
Not all dwarfism cases are created equal, as Dangi's excellent health at a ripened age neatly demonstrates. While several holders of the 'world's smallest person' accolade perished due to complications related to stature, Dangi isn't worried. He has a carefree health status most of us would covet at any age.
As Danki puts it, "I haven't been ill probably because my body is good."